Nordic Outdoor Base Layer Guide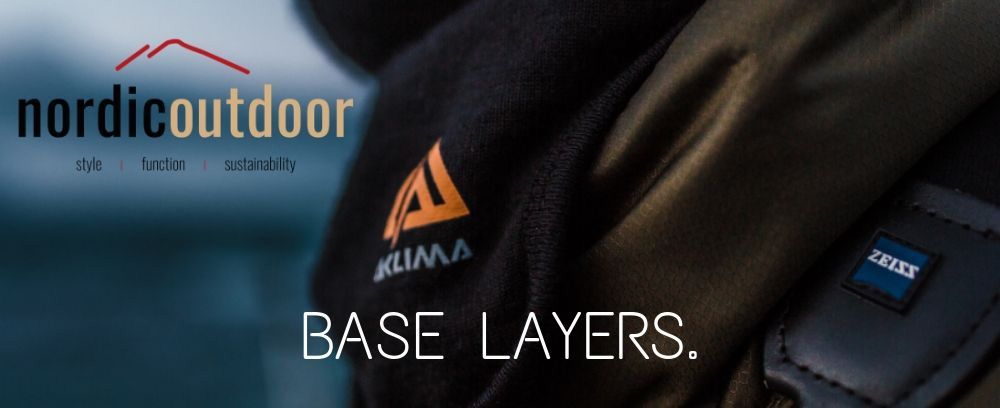 Base layers come in all manner of weights, sizes and materials. For first time buyers it can all seem a little daunting. There are many options to choose from and picking the correct base layer for your particular needs is of vital importance.
At Nordic Outdoor we can truly say we love the products we stock as they have been tried and tested by our staff, who all have a variety of interests in the outdoors. We are therefore well equipped to guide you through choosing the correct base layer for your own particular needs. Find below our handy base layer guide, which will answer your questions and provide you with lots of neat little bits of information on our stock.
What does a base layer need to do?
First off, it's important to take a look at what the base layer is responsible for. Obviously depending on your own style of adventure this will change a little from person to person. However generally your base layer acts as a kind of second skin. It will need to;
Protection

If the weather gets warm enough for you to go right down to your base layer it needs to offer some form of UV protection. It's also important to avoid chafing from backpacks and equipment.


Maintaining Body Temperature

Another important job of the base layer is to keep your core body temperature regulated. Many people believe base layers are exclusively for colder weather. Whilst it is true that a good base layer needs to keep you warm, it also needs to be breathable enough to avoid overheating in the warmer months or during periods of high activity.


Moisture Management
It's a simple fact, wet clothing makes you cold! Plus it's bloody uncomfortable. Your base layer needs to wick moisture to the outside layer quickly where it can evaporate or be absorbed by the next layer. This keeps your skin dry and therefore stops a fun trek from becoming a miserable ordeal.
Material
Material is the most important place to start when it comes to choosing your base layer. Nowadays you can buy base layers across a wide range of prices in a huge variety of materials. From cotton and wool to hi tech synthetics the market is flooded with materials all with their own benefits and drawbacks. At Nordic Outdoor we like to keep it simple. You won't find synthetic fibre base layers with us. We stick to wool.
Readers of our blog will know that we hold wool in an extremely high regard. For the factors mentioned above there truly is no substitute. The base layers we stock come from a Norwegian company called Aclima. Aclima base layers are 100% merino wool and are some of the absolute best on the market.
---
When it comes to comfort, breathability, durability and moisture wicking merino wool is our out and out winner. Aclima produce 3 distinct weights of wool base layer to suit a wide variety of needs. You can find more about them below.
Aclima WoolNet is mesh underwear in Merino Wool giving excellent breathability and ideal for those doing medium to high levels of activity. This range should be your top pick for going on long hikes in the mountains, cycling, cross country skiing or on expeditions. WoolNet makes a very light and comfortable garment with sides, shoulders, elbows and knees covered in rib knit for enhanced comfort.
Items like the Woolnet t-shirt and the hiking crew neck should be your first choice of baselayer in the Summer. Putting one on under your regular base layers in the winter will also have huge benefits.
Aclima LightWool garments are made in a superfine 17.5 micron yarn and weigh only 140g/m² meaning they are probably the softest woollen garments you have ever tried and ideal for activities like running, cycling or golf during the summer months or as soft, warm every day clothes. Wool is cooling on warm days as it insulates well against heat from the outside.
The garments also resist shrinkage from washing and have longer arm, body and leg lengths so there are no draughty gaps in your thermals.
Some of our favourite examples in this weight range would be the Lightwool hoodie and the Lightwool long pant (available in male and female cuts)
Aclima WarmWool in 200g/m² soft Merino Wool is the most popular Aclima line. This is the traditional woollen underwear made from Total Easy Care (TEC) treated Merino wool, which makes it extra soft. The range is ideally suited to those who like to stay outside, even in sub-zero temperatures, when downhill skiing, paddling, climbing and other outdoors activities.
Our favourite Warmwool base layers would be the Warmwool hooded sweater and the Warmwool overalls. You can also find pulse heaters and socks in this weight range for bonus protection.
---
Aclima also produce 2 more weights of wool which can be a little too heavy to be considered base layers. They do however work perfectly as midlayers and even standalone jackets!
Hotwool
Aclima HotWool is made from terry wool (also known as ullfrotte) in either a 230g/m² or 400g/m² mixture of 65% merino wool, 15% polyamide and 20% polyester making the clothes thicker and more hardwearing than pure woollen garments. Many of these clothes can be washed at 60°C in the machine. They are perfect for people who work outside a lot and motorcyclists. The loops on the inside of these garments contain a lot of the air and have great insulating and moisture wicking abilities.
The 400g hotwool jacket (available in men's and women's cuts) in particular provides excellent protection and functions well in many different conditions.
The Fleecewool garments look and feel incredible but you'd be forgiven for thinking it was just another high end hoodie! In actual fact though Fleecewool is an award winning new range featuring one hundred percent merino wool. Even the drawstrings are made from merino. The result is a wonderfully soft and comfortable garment that holds all of the incredible properties that we love in our Aclima base layers. Odour resistance, moisture wicking, breathable and warm the quality of design and materials means that your fleecewool garments will last you many years of big adventures and big nights in.
The fleecewool joggers and hoodies are available in both a men's and women's cut so you can match with your partner!
Aclima WoolShell is a wool-fleece made from the finest Merino wool (300g/m²) and a reinforcement of polyester on the outside. It is a mixture of 42% polyester and 4% elastane on the outside, and 54% soft merino wool lining. The fabric is very durable, soft and warm. The garments can be used as underwear, reinforcement layers and, like the Woolshell Vest, as workout clothes during the winter.
We always love getting new and interesting pieces in stock and getting to introduce them to our customers so we snapped at the chance to stock one of Aclimas exciting new wool types. The Women's flexwool tights are merino tights with integrated flexible sections which allow for incredible freedom of movement. You get the same great Aclima quality and comfort whilst being perfectly suited for heavy use in the outdoors where freedom of movement is key. This is one we're really excited about and can't wait to see what's done with the technology in the future, make sure to check out the first arrivals with the Womens Flexwool Tights!
Shop our full Aclima Range here. If you're still unclear on your needs stop by one of our shops or email/phone us! We're always more than happy to help!