Hilleberg Nallo 4 GT Size Guide
The Hilleberg Nallo and Nallo GT are the ideal all-around, all-season, ultralight tents. The Nallo and its extended vestibule version, the Nallo GT, are the ultralight versions of the Nammatj and Nammatj GT. They excel in any situation where the lightest possible tent is needed, but where true all season strength and reliability might be required.
Both tents are of tunnel tent design and the ultra light weight makes them ideal for mobile adventures, where you move your tent every day. Made from Kerlon 1200, with its 12 kilo tear strength, these tents are robust enough to handle adverse situations and capable of handling all season, all weather adventures.
The Nallo 4 GT is a 4 person tent which offers a good amount space with hardly any weight penalty. It is an ideal choice for family back packing trips, people that take their dogs camping and even for those off back packing around the world. The extended vestibule is perfect for storing boots, packs and other equipment. Leaving the sleeping area clutter free for maximum space and comfort!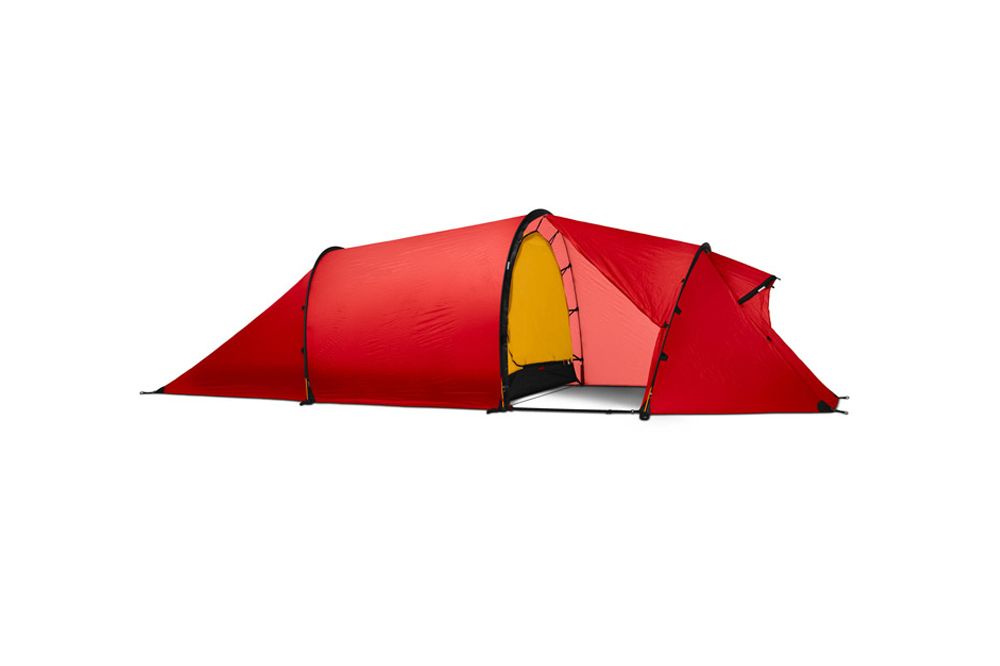 Pitching Instructions
Specifications
Hilleberg Label - Red
The Hilleberg Red label tents are true four season tents. The difference from the Black label tents is that in the production of these tents, a higher importance is placed on making the tents weigh less while still being dependable in all situations. In other words, they are designed to be lighter than, and nearly as adaptable as, the Black label tents.
To achieve lower weight some of the Red label tents have different length poles which makes the tent lighter, but not quite as easy to put up as the Black label and Red labels tents that have uniform length poles. The outer material, zips, and pegs are also lighter weight than in the Black label tents.
These tents are ideal for use all year round in less exposed mountain terrain, forest areas and similar. Since they can still handle storm conditions to a certain extent, some experienced users still take them on demanding expeditions – knowing that there is a trade-off between strength and low weight.