Nordic Outdoor Sustainability Statement

Sustainability
At Nordic Outdoor we hold sustainability as one of our core principles and consistently work to create a more environmentally friendly and sustainable business. With everything we do we aim to minimise the impact our actions have on the environment and develop a strong relationship with the community around us. Sustainability is at the heart of Nordic Outdoor and as the company develops we aim to make further developments in sustainable practise.Throughout the company, from our head office to each Nordic Outdoor store, we look to create a company which prides itself in creating a positive impact for the community and environment.
We understand that sustainability is a learning process and by no means are we perfect. When trying to achieve 'total sustainability' we are bound to make mistakes and as a company we are always keen to listen to ways in which we can improve. We have a dedicated email for all sustainability feedback and questions and are always looking for our customers to help us improve - you can reach us at [email protected]

Before we take on any new brands Nordic Outdoor always looks to ensure their commitment to creating a sustainable business is in line with our goals. We are proud to have a strong working relationship with some of the world's most forward thinking and sustainable outdoor brands. Working closely with our suppliers allows Nordic Outdoor to make a bigger impact than if we tried to tackle these problems alone and this sense of community and partnership is crucial to everything we do.
In the modern age people are drowning in possessions and while we survive on selling clothes, we understand that buying a quality, long lasting product is much more sustainable than buying cheap fast fashion to wear and replace. It's a strange stance for a store to take but we would rather sell our customers less, with the mindset that what you buy in Nordic Outdoor will last for a long time. Our trained staff will never look to sell you a product that isn't right for your needs and as a company we will never stock a product that we don't believe in.
The staff at Nordic Outdoor share our company vision and this culture lives from the bottom up. We aim to learn all about the production process, materials used, and labour conditions for all our products so that we can pass this information on to the customer to ensure they are making the right decision for their needs and for the planet. From using recycled packaging for our online orders to offering paper free receipts in all stores we try to make as much of an impact as we can. As with everything we do this is an ongoing process where we can learn as we grow and there is always room for improvement. With the help of our suppliers and our customers Nordic Outdoor can achieve our goal of becoming a truly sustainable company.
Below you can learn more about the what we do here at Nordic Outdoor to be a more sustainable company and live up to our key tenets of Style, Function and Sustainability.
---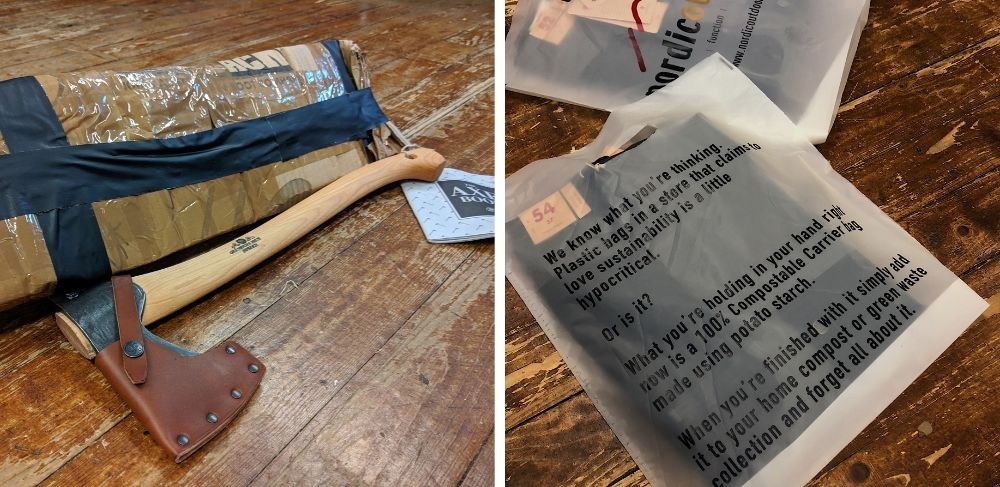 What we do here at Nordic Outdoor
At Nordic Outdoor Sustainability is at the forefront of every conversation that we have. Every time we take on a new brand, open a new store or change a practise we are looking to find the way to do this with the least impact on the environment and with a sense of social responsibility. We have listed a few of the practises we undertake with sustainability in mind below;
Recycled Packaging
We understand that the 'unboxing' experience is something that everyone enjoys when making a purchase online. Everyone loves receiving something they have been looking forward to in a beautiful box with wrapping and branded baggage. However is the environmental impact worth the two seconds of joy this provides? When we ship out our online orders we look to recycle and reuse packaging as much as possible. Our stores stockpile delivery boxes we receive from our suppliers and in turn these are reused to send products to customers. Should you purchase one of our Gransfors Bruk axes or anything fragile then we will protect this with recycled cardboard we receive from our suppliers. It may not be the prettiest way to receive a parcel, but they always arrive safely and have a much smaller impact on the environment than the overuse of bubble wrap and plastic bags.
Potato Starch Carrier Bags
Providing packaging for online orders is not the only sustainability problem faced by most retailers today. One of our biggest concerns is trying to work out what the best solution is for our in-store customers to get their new purchase home safely and sustainably. While canvas totes and paper bags are usually touted as the best option these are in fact less sustainable than an average plastic bag. The energy consumption involved in production of paper or canvas bags means that they need to be reused numerous times to even match the carbon footprint of a classic plastic bag. Amazingly you need to reuse a canvas tote 173 times to make it a more sustainable choice than a plastic bag.
From 2019 Nordic Outdoor have made the decision to replace our traditional plastic bags with new carrier bags made from Potato Starch. Just as strong as traditional carrier bags these are 100% compostable and at their end of life you simply place these in your home composting or green waste bin and leave nature to do the rest! The bag will compost within 360 days in a home compost environment and at least 90% of the material will convert into C02 while the remaining share is converted into water and biomass.
Paperless
Over 30 million acres of forest are destroyed annually and 40% of the world's commercially cut timber is used to produce paper. We understand that paper usage is essential in running a business however we are making steps to remove as much paper from Nordic Outdoor as possible. With our stores now offering E-receipts we can reduce paper consumption massively from our stores and provides customers with piece of mind that the receipt for their purchase will never accidentally end up in the bin! We have also stopped sending paper transfer documents with our intra store transfers, instead choosing to email these to our stores.
Delivery Methods
One of the trickiest problems facing online retailer is how to reduce the carbon emissions involved with shipping products to customers. While this is a hefty problem to solve, here at Nordic Outdoor we are doing everything we can to reduce the impact our shipping causes. Our two courier companies both operate with detailed environmental policies which include eco-start delivery vans, recyclable packaging and carbon neutral commitments. You can read both sustainability statements below;
Single-Use Free Stores
All our stores have signed a pledge to be single use plastic free.This means no single use water bottles or disposable coffee cup should be used in our stores. While this is just a small change it helps to foster a mentality where we all think about what we are using and where we can swap disposable for reusable in our everyday life. All store staff members at Nordic Outdoor have been provided with a reusable Flask from our friends at Klean Kanteen along with a Meal Kit from our friends at Light My Fire.
Community Projects
Nordic Outdoor are continually looking to get involved with local community projects designed to create a more sustainable world. In the past we have taken part in Plogging groups, provided reusable straws and meal kits for local bars and have supported numerous charities. We are always keen to work with other local groups on either charity or environmental projects and if you have an idea you'd like to pitch us then send over an email to [email protected]
---
Our Paper Use Sustainability Statement
You might be wondering how a company who puts such a huge emphasis on sustainability can justify sending out promotional leaflets and flyers. Like all other sustainability matters it is something we have put serious thought and many hours of research and debate into.
After careful thought and consideration, we decided that as a business we cannot justify the ludicrous prices that some printing companies place on their recycled paper products. Of course, price isn't the sole factor we considered when making our decision. If paying £300 for a version of a product that normally costs £100 will ensure a significant decrease in its carbon emissions, we would do it in a heartbeat. However, unfortunately it normally doesn't work that way.
The sad truth is that recent years have seen a huge increase in environmental dishonesty driven by commercial incentives. It can't be denied that there are many misleading terms and practices around sustainability and it's an area where companies need to be exceedingly careful.
One of the key myths around paper production is that recycled paper takes much less energy to produce than paper from virgin fibres. This is a bit misleading as it only refers to the re-pulping process, and completely ignores the processes beforehand. In the publication "Environmental Impacts of Wastepaper Recycling" written by Yrjo Virtanen and Sten Nilsson, they claim that as more wastepaper is collected for recycling, the efficiency of doing so reduces. Transport distances increase, carbon dioxide emissions increase, the energy used sorting increases and the volume of sludge from de-inking increases.
We also learned that the production of a leaflet from 100% recycled pulp accounts for only 38% less CO2 emissions than producing from virgin sources. Rather than pay excessive rates for at best an underwhelming benefit, we at Nordic Outdoor have taken a different approach.
Whenever we send out a leaflet campaign, we calculate the carbon cost using the above figure as a guide. We then process the equivalent number of miles on our favourite carbon offsetting website. Based on the environmental impact of the campaign, the website calculates a suggested donation amount and a relevant charity to offset the costs of our campaign. Just for good measure we double the suggested donation because we are truly dedicated to sustainable business practices. We also take special care to target very specific areas and customers when we're flyering and leafleting. By taking special care to target areas and potential customers who are more likely to be interested in what we have to order we reduce the wastefulness that can often affect campaigns like these.
As with anything you read in our sustainability statement we are always open to suggestions. We don't claim to be experts in the field of sustainability. We absolutely have more to learn and we love hearing new ways we can go that extra mile for our environment. If you have any suggestions or comments, we'd love for you to get in touch with us at [email protected]
---
Brands
Nordic Outdoor has featured a huge range of brands since we first opened our doors. The items on our shelves change often but the values at the core of our company have remained the same since day one.
Along with an item being stylish and functional we feel it is our responsibility to ensure that the product you take from our shops has been produced in a sustainable manner.
Sustainability and the outdoor industry go hand in hand. We are highly motivated to work with the brands we stock to ensure that the impact we have on the environment is minimal. It's important to remember that within the outdoor goods industry there are plenty of ways in which companies can cut costs at the expense of the environment.
This is why at Nordic Outdoor, the brands we stock are carefully selected to match the high standards we hold ourselves to. The onus is on us as retailers to ensure the brands that we stock are doing their bit to ensure a greener tomorrow. The brands we choose don't tiptoe around the issues that face the outdoor industry in an increasingly sustainability minded world. Below you will find a summary of each brand we stock and the steps they take to ensure their impact on our planet is as small as possible.

Norwegian wool specialists Aclima produce some of the best merino wool garments on the market right now. We're huge fans of the brand. Their products work well and look good. What's most important however is their absolute dedication to responsible clothing production.
Almost everything Aclima produces is made with Merino Wool. From the very offset wool is a much more sustainable material to work with than the synthetic fibres that have come to prominence in recent years.
For one wool is a renewable resource. Once the sheep has its haircut, wait a few months and it grows back! Also, it is fully bio-degradable, so natural wool waste isn't harmful to the environment.
Like everything however there is the potential for this resource to be used in an unsustainable manner. For example, the transport of the wool, the treatment and production process and the way in which the animals are kept can all effect the impact the end product has on the environment. Luckily Aclima have taken steps at every stage of production to minimize their impact.
Material use is optimised to be as efficient as possible

Left over fabric is given away to a range of companies to avoid wastage

Dye-works for the wool products use closed systems to avoid polluting local waterways.
A truly sustainable company works on little ways to decrease their carbon footprint as well as the larger more obvious ways. For example, Aclima have completely switched to Forest Stewardship Council paper on all their packaging. Forest Stewardship Council paper contributes to both sustainable forestry and environmentally friendly paper production.
Aclima Sustainability Statement

Named after the legendary polar explorer Roald Amundsen, Amundsen Sports have maintained a close link to the poles. Therefore, fighting global warming through sustainable, environmentally friendly business practices are causes which are of vital importance to the company.
Amundsen Sports have moved over to using solely locally produced wool. Wool as mentioned previously is both renewable and eco-friendly. By using responsibly sourced wool, Amundsen Sports bring that up a level. This cuts out the environmental costs of transporting the wool from farm to factory to shop considerably.

Like many companies Bergans of Norway aim to get people to experience the Great Outdoors. This aim holds true for future generations and so Bergans make a huge effort to make each step of their production process as green as possible.
It would be difficult to find a company which gives as detailed a run down of its environmental considerations as Bergans does on their own website. We've summed up the sections below to showcase the company's myriad sustainability steps.
Materials




Bergans have made huge progress in converting a large percentage of their materials to bluesign approved fabrics. The bluesign system ensures good management of natural resources and ensures safe working conditions. It is Bergans' wish that by 2020 75% of all of their products will contain bluesign approved fabrics

Product Design
All Bergans' products are rigorously tested to strict quality requirements. The end result is a product which will last a long time and therefore will not need to be replaced for many years. Less replacements, less impact on the environment.
Packaging
Packaging used in the transportation and presentation of Bergans products is produced and used in a manner that prevents waste. All Bergans packaging is compliant with the European chemicals regulation REACH.
The ways in which Bergans are striving to increase their sustainability are almost too numerous to write down in one place. From their garment recycling processes, wherein worn out garments are given a brand-new lease of life, to the way in which their products can be easily modified and repaired, few companies face up to the environmental challenges more than Bergans.
Bergans Sustainability Statement

Dale of Norway have 140 years of experience in producing high quality woollen garments. Many of the workers in the factory are part of a generational chain of workers who have been with the company since its foundation.
We've mentioned the incredible qualities of wool many times on our website and this article, however Dale have a unique arrow in their sustainability quiver. Large amounts of the wool for Dale products is sourced in Norway and they are one of the few large wool companies to still base all of its production in Norway.
This gives them a huge measure of control over the quality of their products whilst also considerably cutting down on emissions.

Didriksons have been making high quality waterproof garments for more than a century. A centuries experience can be felt in the clothes themselves and everything from material to design shows a wealth of industry knowledge and experience.
Dealing with waterproofing in the outdoor industry is a sustainability minefield. It's extremely difficult to produce high quality waterproof clothing in a sustainable manner without making considerable sacrifices. It is with this in mind that Didriksons set out to create their garments with as little an impact on the environment as possible.
The company meets its sustainably standards in a number of ways. First off, through their careful design process, Didriksons design clothes to last. When you buy a Didriksons coat you won't need another for a considerably long time. This reduces wastage and means less coats need to be produced.
Secondly in their choice of material Didriksons make every effort to avoid using dangerous chemical processes to ensure waterproofing. When water repellence is required, Didriksons will always use Fluorocarbon free water repellents.
Didriksons Sustainability Statement

It's no stretch to refer to Fjallraven as an industry leader in terms of quality and design. For some time, the highly regarded outdoor brand has been a household name. As an industry leader the onus on Fjallraven to maintain a sustainable production and design process is particularly high. Fortunately, in this, as in all other areas, Fjallraven set out to make a good example for its competitors.
In their own words, Fjallraven have a responsibility to leave basecamp in better condition than they found it. Outdoor companies have a vested interest in keeping our planet in good condition and Fjallraven are no different.
In every aspect of the design process from the choice of material to the packaging, Fjallraven consider the environmental impact their decisions will have. Through careful material choice, strict standards, and clothes built to last, they ensure they produce on natures terms.
Design
Fjallraven products are some of the best available in the outdoor world. The design features are carefully thought out to ensure that these products work well. Something as simple as pocket placement is carefully thought out to ensure maximum ease of use. A Fjallraven jacket will last you many years if you treat it right.
Equally as important to Fjallraven is emotional longevity. By designing a jacket that looks as good as it feels, the customer is less likely to grow bored with it after a couple of seasons. Fjallraven clothing lasts decades and will only look better with added character.
Material
Fjallravens approach to material is simple. If a recycled material is available and just as good why not use it? Understandably the company still need to balance function with sustainability. As they say themselves it doesn't matter how sustainable a material is, if it doesn't work they won't use it.Fjallraven divide up their materials into the following categories:
Excellent; like recycled wool, organic hemp and Tencel®;
Good; recycled polyester, G-1000 Eco and traceable wool;
OK, like polyamide, cotton, metal buttons;and things they will absolutely never use, such as PFCs, PVCs and angora wool.
Fjallraven Sustainability Statement

Even small production companies like Gransfors Bruk have an impact on the environment. Gransfors therefore make every reasonable effort to streamline their production process and cut out as many harmful processes as they can.
The small number of axes they make each year coupled with the amount of work done by hand by skilled craftsmen already make the Gransfors production process much more sustainable than many other axe brands. There are several other little features and changes in the production process that ensures their environmental impact is minimal. Where most companies cool their axes using lead or oil, Gransfors use water. Instead of more modern metal wedges, Gransfors still use a traditional wooden wedge to attach the axe head to the shaft.
In the future Gransfors will only become more sustainable. There are already several new processes which are already in the course of being implemented which should considerably improve Gransfors Bruks sustainability. Gransfors already use recycled steel, vegetable tanned, chromium-free leather and wooden handles made of hickory. This makes a huge difference both at the start of the axes life and what can be done with the product when it reaches its natural end. The steel from the head is recyclable, whilst both the leather from the sheathe and the wood for the handle will decompose, so no waste is created.
Gransfors Bruk Sustainability Statement

The well-established Norwegian brand Helly Hansen has been on the market producing high-quality long-lasting clothing and equipment for well over a hundred years. Apart from aiming to supply products that are as durable as possible they also encourage repairing, reselling, and recycling old kit as much as possible. They constantly improve their production processes to make them more sustainable. Almost all their non-woven insulations contain 80% recycled polyester and they managed to replace 70% of their fleece fabrics with recycled content.
They also take responsibility in the natural materials they source. All their Merino wool is 100% mulesing-free and ZQ certified. The down used in all Helly Hansen products is fully traceable and RDS-certified and only faux fur is used.
All waterproof and breathable items in the Fall Winter 2020 collection are made without the use of DWR treatment and they have moved towards using organic cotton where possible.
Helly Hansen's LIFA base layers have been dyed using a waterless solution dyed process since 1970. Apart from saving on freshwater use, solution dyeing also requires 90% less chemicals, 50% less energy, and 60% less CO2 emissions compared to conventional dyeing.
Helly Hansen's Sustainability Statement

Klättermusen is an established Swedish manufacturer of innovative high standard mountaineering equipment. Their philosophy: "Maximum safety for you, minimum impact on nature". The material, fabric and design in each product is tested and refined in an ongoing process with functionality and durability at its core. Increasing the lifespan of products in this way and aiming to repair rather than replace equipment majorly reduces environmental impact. Stiving to constantly improve product performance and sustainability, Klättermusen switched to using 100% organic cotton in 2006 and introduced nylon from recycled fishing nets in all their backpacks in 2009. The same year they started out their recycling system and in September 2017 they also became the first outdoor brand to achieve a fully fluorocarbon-free collection.
Klattermusen Sustainability Statement

Just because something is recyclable doesn't mean that it is sustainable. There is a lot of false advertising in the world regarding biodegradable and recyclable materials and solutions. Whilst paper cups are widely recyclable, the UK alone uses around 7 million per day. The energy that goes into making and recycling these cups cannot be disregarded when considering how sustainable they are. Luckily there is an easy work around.
Klean Kanteen make vacuum insulated bottles and flasks which will keep your hot drinks hot for 8 hours. You'll need less refills and save money in the long run. These flasks are built to last with the best of materials so you can cut your consumption of plastic bottles and paper cups to 0!
Klean Kanteen Sustainability Policy

Light My Fire of Sweden have been at the forefront of sustainable production for a long time. The company keeps almost all of its production in Sweden which has helped them to keep environmental costs from travel and transport quite low. Their recent move towards Bioplastics however is what we really want to shout about.
In 2019 Light my Fire made the leap to producing all their plastic products from bioplastics. A bio plastic is a plastic which is either biodegradable or is at least somewhat based in plants. At Light my Fire it's a little mix of the two.
Light my fire currently uses three different bioplastics;
Ecozen – Made from European GMO-free corn
Terralene – Made from sugarcane and wood fibres.
Dryflex Green – Made from 2 separate kinds of sugarcanes
The new bioplastic range has a unique smell and texture that shows their natural roots. Alongside this new sustainable product range, Light my Fire have committed themselves to a complete overhaul of their packaging. From the displays on which the products are shown to the way they are transported to the stores from their point of origin, Light My Fire use only recycled and sustainable methods and materials.
Replacing the old packaging, each product now comes housed in a handy Circ Bag. The Circ bag is produced from recycled plastic bottles. Once you have removed your new Light My fire product from the bag itself you can reuse the bag for any number of things. They're perfect for carrying food when camping but the uses are countless!

Tentree
Why stop at limiting you negative environmental impact when you can go beyond and start having a positive impact instead? The Tentree brand has made this their main aim and the commitment to is captured in its name. Ten trees are what Tentree plant for every item sold. And they don't just plant them anywhere. Locations and trees are carefully selected so that their planting has as big a positive effect on the environment and the local communities. Their planting locations include Senegal, Nepal, Indonesia, Canada and Madagascar. Customers receive a tracking number with which they can check on the Tentree website where exactly their ten trees were planted.
The materials Tentree use are mainly natural such as Tencel™, organic cotton, cork, and hemp. All of these materials are produced using less water and harmful chemicals and are therefore kinder to the environment and the people working with the products. Where polyester is used it is recycled using plastic bottles from landfills. Every manufacturer Tentree work with is listed on their website with information on their location, social compliances, suppliers and more.
Tentree themselves are a certified B corporation which means their governance, employee relations, positive community and environmental impact have been assessed and found to exceed that of a standard business. Tentree don't merely meet the qualification criteria but go well beyond them.

Royal Robbins
Royal Robbins was founded by and named after American climbing legend Royal Robbins and his no-less legendary wife Liz Robbins. They were some of the first and most vocal proponents of clean climbing: using removable nuts for protection rather than pounding pitons into the granite cracks. This practice, along with a very sparing use of bolts, minimized damage to the rock. This legacy of environmental responsibility and of sustainability remains with the company. When Royal and Liz Robbins started selling, and later producing, outdoor and travel apparel and equipment they took the same approach. Their garments are made so one can comfortably enjoy the environment without negatively impacting it. They are built for a purpose and they are built to last.
Royal Robbins use bluesign® approved fabrics, plant-based fibres, and Tencels and Modals from sustainably managed forests. All their wool is sourced ethically and is exclusively non-mulesed wool. Dirt and water repellent fabrics are entirely free from PFC's and strict rules apply to the use of other harmful chemicals in every step of the production process. The company's goal is to reduce our CO2 emissions by 25 percent by 2020 and to become carbon neutral by 2025.
Royal Robbins Sustainability Statement

Tretorn was founded in 1891 in the South of Sweden and has an approach to sustainability that is rooted deep in the company's history. They started their first recycling initiative in 1939. As the Second World War stopped all rubber imports Tretorn encouraged everyone to hand in their old rubber boots so that the material could be reused. Admittedly this initiative was born out of necessity, but the experience and the mentality to reuse and repurpose has stayed with the company to this day.
In 2016, for their 125th anniversary, Tretorn launched the Eco Essentials Initiative. It consists of several projects that aim to minimalize the impact of garment production on the environment.
The Left-Over Project
In collaboration with the Swedish outdoor retailer Naturkompaniet, Tretorn launched a rain jacket collection inspired by natural ecosystems. The aim was to reduce waste in the production of garments, so they bought leftover fabrics from manufacturers and reused it creating very limited-edition collections.
The Ghost Net Project
In 2017 they decided to tackle another pressing environmental problem. Ghost nets that are left behind by the fishing industry pollute our oceans and cause problems for wildlife that gets tangled in them. Tretorn and Naturkompaniet decided to collect and recycle those fishing nets and turn them in to another collection limited-edition collection.
Bio Plant Project
The Bio Plant Project was launched in 2018 and brought a jacket to the market that is made with PLA from tapioca and sugar cane. It is 100% degradable, and that eliminates fossil fuel usage entirely.
Tretorn Ocean-Shell®
Tretorn Ocean-Shell® is a three-layer fabric made exclusively from recycled PET-bottles. The bottles are collected from the ocean outside of Taiwan. The jackets made from it also feature a hydrophilic membrane made from recycled PET from the ocean. And it does not stop there. The garments are designed to be recycled again making the production and consumption a full circle that does not require new raw materials.
We at Nordic Outdoor are proud to announce that all Tretorn products we offer are part of the Eco Essentials Initiative.
Tretorn Sustainability Statement

Western Mountaineering make some of the best and most responsibly sourced down sleeping bags on the market. The down they use does not come from geese that were live-plucked or subject to force feeding. On the contrary, all their down comes from Eastern European mother goose farms. At such farms, geese are raised for breeding as opposed to strictly being raised for human consumption. This means they have a longer life span and aren't confined in cages all their life. Their daily interaction with humans is kept to a minimum and plumage is gathered from their nesting areas while the geese are out on other parts of the property. The Western Mountaineering team visit both the farm as well as the processor to ensure both are up to their high standards.