An Introduction to Tentipi
The Kåta. It was invented by the Sami, an indigenous people found in northern Sweden, Norway, and Finland among other places. Back when it was first created, thousands of years ago, the conical shape was supported by a wooden frame covered with animal hides. This inherently stable design has stood the test of time, and since 1989 Tentipi have produced Kåtas by combining this design with high quality fabrics. The solution Tentipi has come up with has resulted in a versatile tent where you no longer have a trade-off between portable and spacious, or between low weight and the ability to have a heater or an open fire inside your tent.
It was in the village of Moskosel in Lapland's inland that Tentipi founder Bengt Grahn first came up with the idea of making Nordic Tipis. His aim was to create a tent where it would be possible to socialise and relax together, away from the elements and annoying insects. The Kåta construction was the obvious choice.
Today, Bengt and the product development team operates out of Sunne, in central Sweden, where Tentipi have their main warehouse. Moskosel is simply too remote for transport of the bulk of the stock. However, there is still a production plant there where the larger models are sewn.
The standout feature of the Tentipi kåtas is the fact that the construction creates a natural chimney effect where warm air rises and leaves the tent through the top vent, dragging smoke and fumes with it. The vacuum left by the warm air then drags fresh air in through the bottom. Not only does this mean that you can have a fire inside the tent to keep you warm during the winter, it also means that during hot summer days the same effect will actually work to cool your tent.
The other feature that stands out with the Tentipi Kåtas is the versatility. It is a tent that can be used for practically any purpose, whether that be an expedition in extreme cold or a party in your back garden. While there are of course people whose circumstances mean that they need a specific tent developed to their exact requirements, for most users there are few situations where the Tentipi couldn't be considered a good option.
Nordic Outdoor and Tentipi
It was in 2003 that Caspar Odqvist, the founder and Managing Director of Nordic Outdoor, came across Tentipi. At the time Tentipi had no presence in the UK at all, and being a Swede himself Caspar saw an opportunity. In the years that have passed since, when Caspar was doing shows and searching out every opportunity that presented itself, both Nordic Outdoor and Tentipi have grown. Nowadays Tentipi is a well known brand in the outdoor community. due to our close personal history with the brand, Tentipi still holds a special place with us here at Nordic Outdoor.
The reason we believe that we are best placed to give Tentipi such a positive endorsement isthat we at Nordic Outdoor use these tents religiously. We encourage our staff members to take our demonstration tents out at every opportunity. Over the years we have even had staff living in these tents for extended periods of time. All in an attempt to be able to offer our customers the best advice, recommendations and service possible. The fact that our staff enjoys it is just an added bonus.
Buying Guide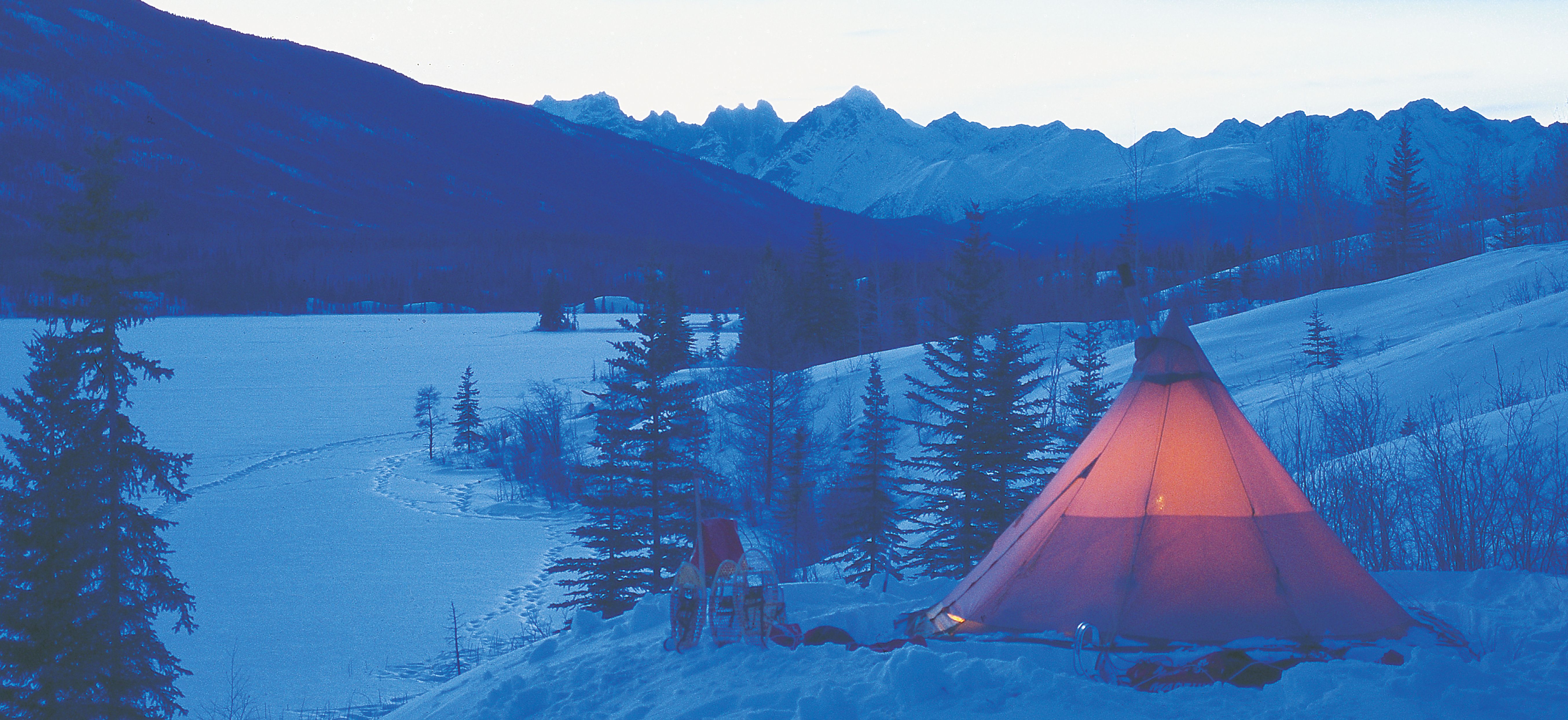 Basically what you need to ask yourself is what you want your tent to do for you. Start by asking yourself these following questions and rank them in order of importance to you.
• How many of you will be using the
Tentipi
, both as a group and separately?
• What type of camping will you be doing? Will you be doing wild camping or are you mainly going to be camping on campsites? Closely tied to this point is where, geographically speaking, you will be doing your camping. Being somewhere in the south offers a different climate, and poses different challenges, than being in the very north of Scotland.
• What time of year will you be using your tent? Are you planning on using it during the summer or all year round?
• Will you only be using your
Tentipi
in fair weather or will you be out no matter the weather?
• What importance do you place on comfort in relation to weight?
• How important is it to be able to have heating inside the Tipi? Obviously wanting a
stove
inside requires the necessary space.
• Another aspect that will have an impact on space requirements is the way you are planning on sleeping inside the
Tentipi
. Using camp beds will require more space than regular sleeping mats.
At this point be very clear with you are expecting out of your tent. If at any point during this process you are unsure about anything, just get in touch with us and we will do our very best to guide you to an optimal solution for you.
Now that you have your requirements solidly organised in your mind, it is time to start making selections on the specific features of the Tentipis. Depending on what conclusions you have arrived at in step one, you decide on either fabrics or size in this step.
If you have come to the conclusion that comfort is what is most important to you and that the camping you will be doing isn't extreme in any way, at this stage you will decide on the size most suitable to you.
If, on the other hand, you have come to the conclusion that what you will be doing will demand a lot out of your tent in terms of durability you should consider fabrics at this point.
Sizing
The way tent sizes are named can sometimes be confusing, and the figures thrown around seem arbitrary. The Tentipi adventure range comes in four different sizes; 5, 7, 9, and 15. But what does that mean in real terms?
Basically the number comes from a rough estimate of how many people you can fit in sleeping military style, with their feet towards the entrance. However, being five adults in a size 5 Tentipi would be very cramped, especially if you take a stove into consideration. Also, be aware that when we quote the living space in this guide, part of that living space will be right up against the tent walls. This matters because due to the design of the tents, the slope near the walls is acute, meaning that it is not a matter of just drawing a circle on your lawn to get an exact indication of how much space you would have in the tent. Instead, we use these measurements as a guide to show how the different sizes differ in relation to each other.
We believe that for you to enjoy your Tentipi, having enough living space is of the utmost importance. The social aspect of these tents is part of what makes them unique, and that might get lost if you are too crowded. If at any point you are in doubt of the size you should get, always go up a size even if that means that you have to go down a model to accommodate you budget.
With a height of 2.3 meter and a living area of 7.3 m², this size is generally good for two or three adults who wants a tent to use as a basecamp. The size 5 is ideal for couples that have their own way of getting around, be that kayaking or motor biking for example. The size would likely be too small for couples with children and it is also not ideal if you are intending to use a stove. The stove would make a tent of this size very hot in addition to you being very close to it. Also, for taller people, think 6 feet 4 inches and up, the height might be less than ideal. Of course you would still be able to stand up in the centre of the tent but the area with standing height would be limited for you.
Having a height of 2.7 meter and a living area of 10.5 m², this is the smallest size we recommend if you are wanting to use a stove. It is the size most frequently used by smaller families, especially if the children are small. For the taller of you that were deterred by the height in the size 5 you can rest assured that the size 7 offers a considerably better fit for you. Again it makes a great basecamp for couples who want that extra bit of space and want to use a stove. We have found that this size is also adequate as an area for cooking and socialising for scout groups of five to eight members, especially when alternative sleeping accommodation is available elsewhere.
The height (3.1 meter) and even more so the living area (15.6 m²) make this size a great option for larger families, or smaller families that want some extra space. This size makes an excellent basecamp for extended periods of time. If you are thinking that you will be using camp beds this is the size to get, since it allows for the extra space taken by the beds. The size 9 would make a luxurious accommodation for couples who want to live the glamping dream!
Tentipis biggest size can boast of a whopping 26.4 m² living area, making the jump from the model down over 10 m². This size is ideal for families of four or five that want an extra bit of space, especially if camp beds are going to be used. The size 15 is an excellent option for scout groups or schools as a basecamp or accommodation. It also makes a great outdoor classroom. In fact, if you stop by our tent show room in Granton we can show you pictures of the time 70 children managed to fit into one!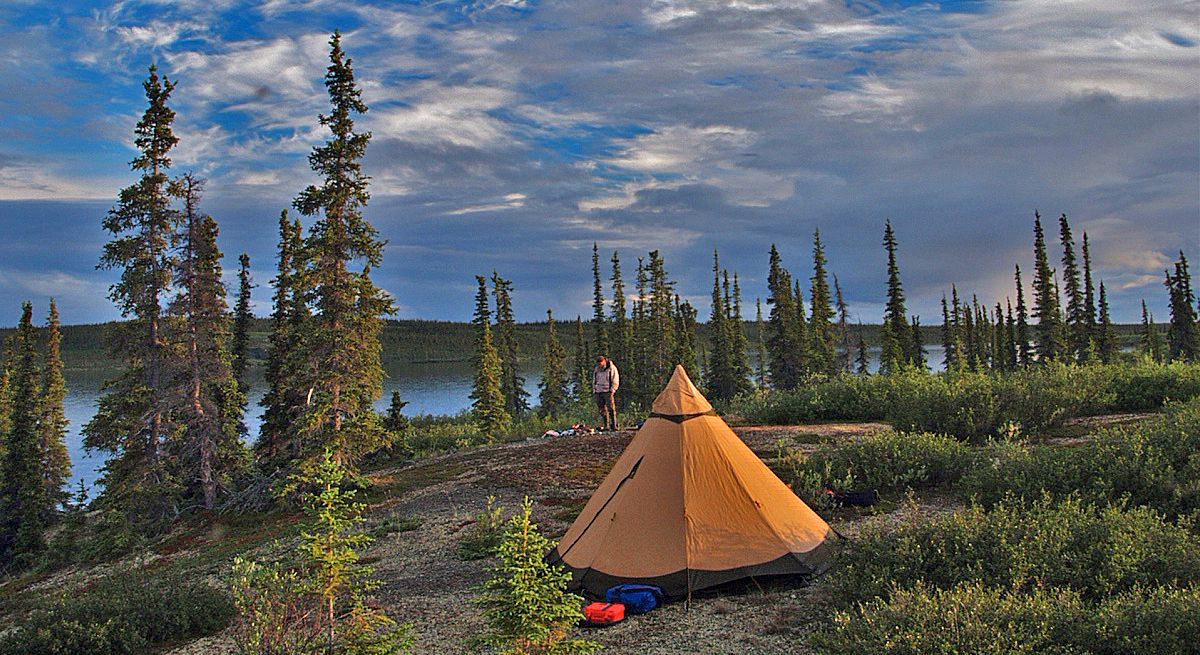 Fabrics
Before any discussion on fabrics it is worth noting the two different ways a tent fabric is usually treated to be water repellent. The most common way these days is to apply a coating to a very finely woven fabric. Using this approach the material becomes completely waterproof, and it can also be very light. What you are giving up with using this approach is comfort and breathability.
The other way to increase a fabrics ability to repel water is to impregnate the fabric with a water repellent agent. This is a more traditional approach that has been used for decades. Using this approach often means a thicker, and natural, fabric which allows for greater breathability. Obviously this increased comfort means a slight sacrifice when it comes to weight. This approach also means that the material is water resistant rather than waterproof. In extreme weather it might leak through some.
Cotpolmex
This type of canvas fabric is not waterproof in itself. However, it can hold moisture which means that you can touch it from the inside without the fabric releasing the water it holds. The reason this works is because cotton swells when it gets wet, creating a mechanical barrier rather than a chemical barrier as with completely waterproof fabrics. As an additional measure, the fabric is also impregnated with a highly water repellent agent.
The upside with this type of fabric is that it is very breathable, making issues with condensation few and far between. In fact, it is so breathable that the use of an inner tent is not required in most circumstances. It is also highly flame and spark resistant, which is good in a tent designed to have an open fire inside. You won't have to worry about finding yourself in a pile of melted plastic after or, even worse, before dinner.
The light tan colour of the fabric makes for a very pleasant and light atmosphere inside, even on overcast days where darker fabrics would cause a premature twilight. In very hot and sunny weather this canvas material will keep the inside of your tipi considerably cooler than darker synthetic materials, again showing the ability of natural fabrics to adapt to varied circumstances.
Overall this is a very durable and long lasting product when looked after properly. Tentipi make tents in two versions of Cotpolmex.
This is the fabric that is used in the Safir range. The heavier weave ensures better weather protection in demanding conditions, without weighing more than the lower density weave fabrics. It is worth pointing out that when we say heavier, we are referring only to the density of the weave rather than the weight of the fabric. This heavier density means that water molecules will have a harder time penetrating, and also makes the fabric more durable when exposed to the elements for extended periods of time (we are talking in terms of years here). Like we mentioned above, a cotton and polyester fabric like this is not waterproof which means that while it is very resilient, in the most extreme conditions even this fabric might leak.
The fact that the fabric in itself is rather stiff means that it makes less wind noise than a more flexible fabric would. These qualities makes it well suited for use in the Scottish Highlands, or in other exposed locations. It is also the fabric to choose if the tent will be used as a commercial rental, or if you are intending to use it for serious wild camping.
This is the fabric that is used in the Zirkon and Onyx models. This a lower density weave polyester and cotton fabric compared to the Cotpolmex P fabric. It would be wrong to say that this is a worse fabric, it is simply a fabric intended to be used in a different way. Like with the higher density weave, in some very specific circumstances this fabric can be penetrated by water. The lesser densitywhich is why it is not ideal for the most extreme locations. All of this sums up to an excellent fabric for more casual use, making it ideal for general camping, fair weather camping and campsite camping.
These are the light weight fabrics made by Tentipi. In this case light only refers to the weight, since the silicone coating means that they are very durable at a low weight. By using this type of coating a very thin ripstop nylon fabric can be used, ensuring low weight while still being extremely strong.
These man made materials are lighter than the canvas materials above, and are ideal for backcountry hiking where weight is a major consideration. However, bear in mind that condensation might be an issue when using this type of material. The use of an inner tent can help alleviate the problem, you can read more about the inner tents further down in this guide. The Traillix fabrics are also not fire and spark resistant in the same way as natural fabrics, so be careful with fire close to the material.
Whatever you ended up deciding on in the previous step it is now time to decide on the other aspect. In other words, if you decided on size in the step two, now decide on fabric and vice versa.

Now that you have decided on the size and material it is time to decide on the model that is best suited to you. It is worth noting at this point that if you have decided that it is Cotpolmex P that you need your decision here is simple. The Safir is the only model that uses that fabric.
To choose the appropriate model for you, ask yourself the importance of the following aspects.
• Comfort. How many vents will you need?
• Ease of use. Will you be using a stove, and if so will you want stove integration?
• Potential to make add-ons. Will you want the possibility to add a porch to your tent?
• Will you be wanting the waterproof skirt? This reinforcement edge provides better wear resistance around the bottom edge of the tent, especially during windy conditions.
Based on your preferences when it comes to these aspects select the most appropriate model from below.
Onyx – This is the entry level Tentipi, made from the Cotpolmex C. This model is ideal for those who like the idea of the Tentipi, but don't need the frills of the more advanced models. While it lacks the integral chimney opening of the more advanced models, an open fire is perfectly fine in the Onyx.
The lack of an integrated stove chimney opening means that if you want to use a stove with it you would have to open the single top cap and use that as the exit point for the chimney. The downside here is that it would leave a gap through which you might experience some leakage on rainy days. This model doesn't have bottom vents or a waterproof skirt. Not having a waterproof skirt means that moisture might be wicked up by the fabric if the ground is damp.
Zirkon – The Zirkon is also made from Cotpolmex C, the same fabric as the Onyx. But where the Onyx lacks fancy bells and whistles, the Zirkon has them a plenty. This model offers stove integration and has a waterproof skirt. For the size 7 and 9 it also comes with the fittings to attach a porch as a standard feature, where you would have to get a porch adaptor for the less advanced Onyx range. All this comes down to an ideal tent for those who will be doing more casual and formal camping, and want a tent with advanced features at a lower cost.
The only real downside with this model is that the fabric is slightly less durable than in the Safir range.
Safir – In terms of features this top of the line adventure tipi is similar to the Zirkon. This includes the two separate top caps, the waterproof skirt, the stove integration, and the ability of attach a porch to the size 7 and 9 models.
When it comes to bottom vents the Safir has two extra compared to the Zirkon, totalling three. But what makes the Safir special is the fabric. The durability of the Cotpolmex P makes the Safir ideal for rough conditions. It also means that a Safir tent is a long term investment, a piece of equipment that can be passed down through the generations. In terms of disadvantages with this model, we are hard-pressed to come up with any.
Now that your main decisions are made it is time to select the accessories needed.
We always recommend getting a floor with your Tentipi. If you think about it, even on days when it is dry, the ground is most often damp. Having the floor makes the inside of your tipi much more comfortable and easier to keep clean. While it would be possible to use a regular tarp to accomplish this, the ease of use the designated floors provide makes them worth it. Also, a standard tarpaulin would not provide the same barrier to entry on the inside since it would leave gaps at the sides where both wind and uninvited guests might enter. Floors are also a good option to provide further protection against midges since they have a tendency to enter tents from the ground. We will discuss midges further later on in this guide.
The fact that you can't attach a tarpaulin also means that it might shift when walked on. Another aspect worth considering if you are thinking about using a regular tarpaulin is that a lot of current tarps are only waterproof when used as coverage overhead, rather than when put under pressure directly on the ground.
Tentipi floors are made from waterproof material, designed to withstand the wear and tear that comes with being placed directly on the ground. However, be aware that while the seams are sealed, and the material itself is waterproof, the zips aren't. While this is very rarely an issue it means that if you do pitch your tent in a low area and then end up with standing water, it might leak in through the zips.
The Tentipi floors come in two ranges.
Comfort Floors – Like all Tentipi floors this version attaches using a toggle and ring system. With this system the skirt of the Tentipi can be folded in underneath the floor, creating a protection against unwanted draught from the outside. The tensioners means that the floor can be pulled nice and tight.
As mentioned above the material in the comfort floors is waterproof. These floors also has four zips in the middle that will create a hole around the centre pole. It also has one zip going forward towards the door from the centre of the floor. This will allow you to make two diamond shapes, one with an apex at the front towards the door and the other inside pointing towards the door. Since the floor doesn't open all the way up it is important to make sure that you put your floor in before the tent is completely tensioned. This is because you will have to lift the centre pole to insert the floor.
Pro Floors – The Pro version is similar to the Comfort floors in the sense that they use the same toggle and ring system to attach to the bottom of the Tentipi. However, these floors are made from a heavier and more durable fabric. It also has an improved zip configuration. This means that you can open the zip completely, letting you wrap the floor around the pole rather than having to insert the floor underneath the pole. What all this boils down to is an easier process for putting you Tentipi up. You can also go ahead and tension your tent right away during the erection process since you won't have to lift the pole to get the floor in.
If you want to add some extra protection for your floor, you can use a smaller piece of scrap tarpaulin under the high wear areas. This is an especially good idea if you are planning on taking your tipi wild camping. If you are looking for increased comfort, a cheap waterproof picnic mat inserted under the floor is always a nice touch as well.
Lastly, if you are using a stove, a piece of plywood (or similar) under the stove not only prevents ash drops from damaging the floor but also provides an excellent area to dry and store the wood you are planning on using.
The Tentipi stoves are made from stainless steel, making them easy to maintain. These stoves are completely modular, meaning that they pack away in themselves as self-contained units. The riveted design is actually designed to fail. This is a good thing, no matter how it might sound at a first take. What it means is that if the stove gets too hot the rivets will fail, allowing the material to flex and expand rather than deforming, and thereby causing permanent damage. Riveting your stove is a whole lot easier than having to reshape the metal.
The stove also features an internal flue shelf which ensures that the top plate receives an optimal heat transfer. This allows for cooking on the top of the stove! The design of the outside flue mesh means that the chimney itself is never in contact with the tent fabric. The flue construction allows adequate venting to ensure that carbon monoxide poisoning is not an issue to worry about when using these stoves.
We always recommend getting a stove to ensure a dry and happy Tentipi experience. Having a stove helps dry up the fabric if it has gotten damp, which increases comfort on wet days. It doesn't take much to heat up a Tentipi, so keeping a small fire going will be sufficient in most circumstances.
This is a hardened aluminium rail construction that allows you to hang and dry your wet or damp clothes. Small, so it doesn't take much space, it attaches using a toggle and ring system. The drying rail functions really well together with a stove, making it a real favourite here at Nordic Outdoor.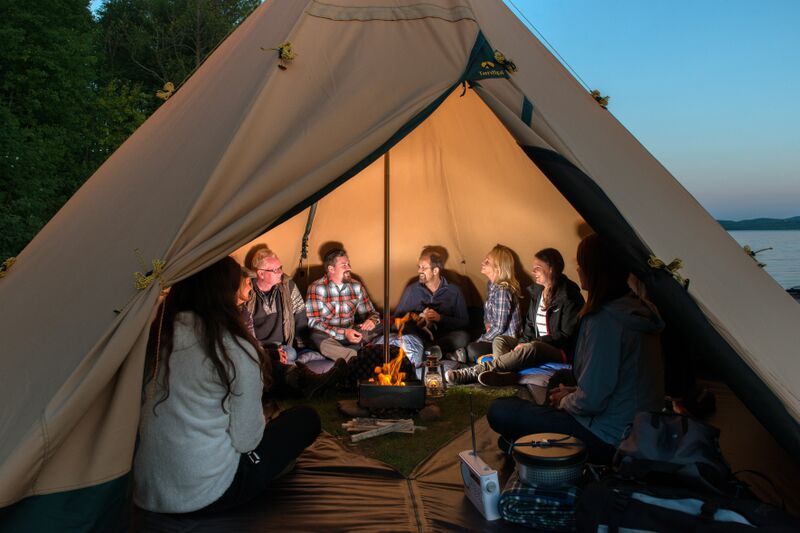 Midges
There's no getting around it, so let's just tackle the issue head on before we get any further. Most of you, and especially those of you from Scotland, will know what a pain midges can be.
The Tentipi tents have mosquito netting covering vents, and in some models covering the entrance as well. While these nets are not midge proof as such, they will stop most midges. At this point surely a few of you are asking yourselves: "Why don't they just make midge netting instead of mosquito netting then?" The answer to that question is ventilation. Having netting as fine as it would take to stop every midge from getting through would not only stop the flying marauders, but also the all so important air flow. This is the thinking behind the choice of mosquito netting.
Using a floor is a great way to help prevent any unwanted (aren't they all) midge intrusions since most midges enter from the ground. Another point worth making is that no matter how midge proof your tent is, the time you are most vulnerable is when you enter and exit your tent. Try to be as quick as possible, and use as small an opening as possible.
While we would like to say that Tentipi provides the perfect midge prevention, and that the whole issue can be called solved, there just is no such simple answer. After all, it is a tent.
The use of an inner tent can further help prevent midges entering your tent. Using an inner tent in combination with a floor creates an even better seal to the outside than when just using the floor by itself. While, as with the netting covering the vents, the inner tents are designed to keep mosquitos out, the use of one will add another protective layer against whatever midges manage to get through the vent netting. As an added bonus the seal created by the inner tent makes for a nice and comfortable atmosphere inside your tipi.
While they are not really needed in the CP models, an inner tent can be a good addition to the Light models since it helps combat condensation. The use of an inner tent is ideal in areas where dangerous animals exist, or in areas where you are likely to encounter a lot of dust.
Be aware that the inners take up some additional space inside, which should be taken into consideration when deciding on the size of Tentipi required.
The porches are available in both Light and CP material. Pick the relevant material to match the material of your tipi. It is only possible to attach a porch to sizes 7 and 9 in the respective models. The newer Tentipi models in the Zirkon and Safir ranges have Porch integration included in the construction, for older models it might be possible to retrofit using a porch adaptor. If you have any questions about this just give us a call and we will help guide you in the right direction.
The big advantage of the porches is that they increase space inside your tipi by providing a nice foyer for wet clothes and equipment. Keeping this dirty kit outside also helps keep the interior nice and clean. Keep in mind that adding a porch is not the solution if you are thinking that the use of one could mean that you can size down on the actual tent. This is because the porches are an addition, rather than an integral part of the tent, and needs to come down in really windy conditions. If you have then counted on the extra space provided you may find yourself in a bit of a squeeze for space.
Also, until you have had some practice, putting up the porch may add considerable time to the erection of your Tentipi. But once it is up it is a great addition.
Call us! It is always good to have a discussion to make sure that what you are getting is ideally suited to your needs. As the longest serving Tentipi retailer in the UK, we want to make sure that these tents are sold the right way. Our conversations will never be about trying to get you to buy the most expensive tent. Rather, we would tell you if you are getting something that you don't need. Even if it ends up losing us a sale, in the long run it is always worth it.
This guide is meant as a guidance tool only. While we believe that this guide provides a good starting point for anyone looking at Tentipis we know that everyone's circumstances are different. These circumstances might mean specific requirements that aren't covered in this guide which is why this guide, like any guide, can't be used as the sole means to base your purchase on.
It is also worth pointing out that parts of this guide is founded on our subjective opinions that we have developed during over a decade of selling Tentipi. You might find other opinions elsewhere.
This is why we encourage you to get in touch with us if you find anything strange or something that contradicts something you have read, rather than taking what you read on the internet as absolute fact. No guide will ever be as accurate as a face to face conversation or chat over the phone.
You can call us to discuss the Tentipi Range on 0131 552 3000 between 9.30am - 5.30pm Monday to Friday.