Advanced anorak for demanding treks throughout the year. Fjällräven's Anorak No.8 is made from G-1000® Eco and G-1000® HeavyDuty with adaptable storm hood, plenty of ventilation and practical pockets.
Please note that the Anorak No.8 fits larger than other jackets in the Fjallraven collection. This design is to allow the anorak to be worn over numerous layers and you may wish to adjust your chosen size depending on expected usage.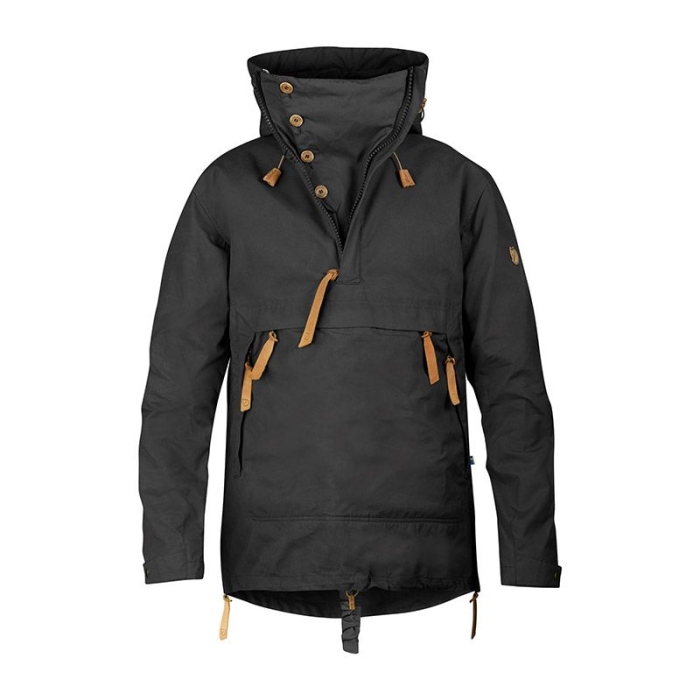 Fjällräven's Anorak No. 8 was created to withstand tough conditions in the forest and mountains throughout the year. The hood can be adjusted for a perfect fit around the head, and a visor construction means that you can fold the visor back from two angles, depending on whether you want maximum wind protection or more peripheral visibility. When not being worn, the hood forms a high collar that keeps your neck warm. In warmer weather, the zipper can be unzipped and the opening unbuttoned and folded to the side to release excess heat. There are also long zippers in the sides of this anorak that can be opened for ventilation and make it easier to put on/take off. The large kangaroo pouch in the front can be accessed both from the top and the sides. A drawcord in the back regulates the waist and another drawcord in the front adjusts the hem. Buttoned sleeve cuffs. The anorak is made from wind and water resistant G-1000® Eco in recycled polyester and organic cotton with extra strong G-1000® HeavyDuty at the shoulders, sleeves and the extended back. The fabric and details were chosen to minimise their impact on the environment - for example most of the leather details are made from leftover pieces of leather - and to make it easy to replace exposed sections after years of use.
Fjallraven no decision is taken lightly. When considering a material Fjallraven will evaluate its efficiency, functional qualities, chemical composition and the amount they'll need before making a choice. Fjallraven use a Preferred Materials And Fibres List that grades materials in terms of their impact on the environment. And this list is constantly updated, reflecting new research and new materials. In 2012 Fjallraven decided to switch to fluorocarbon-free impregnation throughout its full product range.
G-1000 is Fjallraven's cornerstone material, made from recycled polyester and organic cotton. Fjallraven use it in everything from backpacks to jackets and trousers. It's a densely woven fabric made from 65% polyester and 35% cotton and, by using Greenland Wax, it's adaptable to a whole variety of different climactic conditions. So, with the right care this durable fabric will last for ages and join you on all kinds of adventures. The longer a garment lasts the more sustainable it becomes.